Sun, 22 June 2014
SC 79 #4. College to Career - Your Calling Card
We are pleased to present this series of 6 blog posts and podcasts to help college graduates make the transition from college to career.
Number 4: Your Calling Card
Create the perfect cover letter & resume.
Keep in mind that you'll want to create these documents for the printed page in various digital formats too.



7

tips to help you create your perfect cover letter and resume:
1. Create a digital document which will contain ALL of your experience to date.
Meet with your career guidance office or professor to learn what is the best format for your field of interest.

Do not underestimate the amount of time and care that

you must

invest in these documents.

Remember, people are looking for 'perfect' here.

Most employers will not look past the top one-third of your resume page. If they see something promising, in the top-third, they continue to read.

Customize the information on your resume so that it is only applicable to the specific job you are applying for.

The documents you send out need to be proofed by someone who an excellent proof-reader. These documents need to be perfect in every way.
2. Do not include any experience that is not directly related to the job you applying for.
Do include your applicable coursework. Tell them what you've learned.

Do include on or off campus work, paid or unpaid that applies to the job you are applying for.
3. Identify 3 trusted person who know your work and will speak honestly and highly of you and your work.
Be sure to include their title, place of business, telephone number, and email address.

The more they can say about you, the better.

Let your professional references know ahead of time. Request that they be a reference for you.
4. Do not lie on your resume.
Once you cross the line into 'making stuff up' then you cross the line into trouble.

Lying on your resume can get you fired and blacken your name in that industry.
5. Create online versions of your resume on your professional website.
Version No. One:

HTML

. This is searchable and you can insert links to relevant references.
Version No. Two:

Microsoft Word

- Read only document. This remains the standard in word processing documents.
Version No. Three:

PDF

- This is commonly free and available on all computers.
6. Register your website with these search engines:
7. Insert something unique about you in your resume.
You need to

STAND OUT!

Remember, you are one of many.
More on this in our next Blogpost / Podcast, "College to Career - Your Job Search
Help people and they will help you."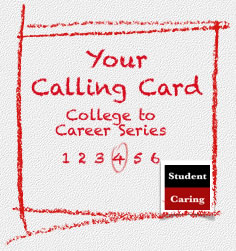 Please share your opinions on this Post / Podcast: SC 79 #4 College to Career - Your Calling Card – the world is reading & listening (in over 100 countries) ...
We need your feedback so we may continue to fulfill our mission statement and help students, the world over.
Thank you!
Daniel & David
Comments[0]
---