Fri, 26 July 2013
SC 47 How We Spent Our Summer Vacation
How We Spent Our Summer Vacation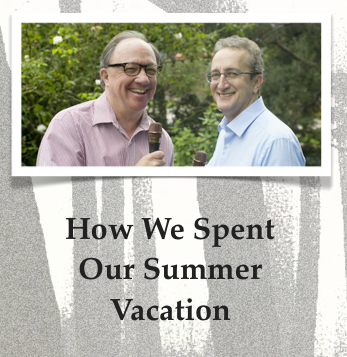 In this podcast we talk about our activities during the summer of 2013 and give you a preview of what to expect from Student Caring in the fall.
Sound Bites:
I taught the typical college composition class.
I produced a theatre production and in doing so, re-designed how I will teach my course in producing for next spring.
Any fun this summer, David? With a student of mine, we helped to put on a local fireworks show.
We would like to hear from you about future topics for us to research and present.
If you are a student, we would love to have you as a guest for a podcast interview.
We have listeners who are in India, England, and Australia. If you are in one of these countries, we would like to make personal contact to get to know you better. Please, introduce yourself!
If you have an educational conference in your area, we would love to join you as guest speakers.
We hope you are all having wonderful summers!
Upcoming Podcast Topics:
Professor, Ellen Bremen, M.A. will join us for a podcast and talk about her new book, "Say This, NOT That to Your Professor. 36 Talking Tips for College Success
E.S.L. programs and their importance.
International students in the Unites States.
H.B.C.U. Lifestyle
Why Your Opinion Matters:
Our upcoming book:The Caring Professor: A Guide to Effective, Rewarding, and Rigorous Teaching, was written with feedback from many educators and students, which was our plan all along. We began by outlining our thoughts on a series of topics, then we recorded them to share with the world. From the feedback we received, we were informed about the needs of the student caring community. We need your feedback so we may continue to fulfill our mission statement and help students, the world over.
Please, click to write a review for this podcast in iTunes.
If you have a question you'd potentially like answered on a future podcast, CALL our toll free Internet voicemail number: (855) 639-9292.
Thank you!
Daniel & David
Comments[0]
---