Wed, 29 May 2013
SC 41 #1 Underprepared Students: Facts and Fictions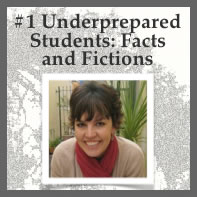 We welcome special guest, Professor Summer Serpas, who teaches English at Irvine Valley College in Orange County, California. Prof. Serpas is a member of the California Acceleration Project, which works with underprepared college students.
Part One of Two
In this episode you'll learn about:
Fiction: Underprepared students are intellectually unprepared for college.

This is a common myth that many people believe in.
Students often procrastinate so they can blame the 'procrastination' instead of themselves.
The "Fess Up" list. Who did not do the reading today? "I really did the reading, but I did not get it."

Fiction: Underprepared students cannot initially take on the same challenging intellectual work expected of their peers.

3 principles of teaching: backwards design, just-in-time remediation, intentional support for issues (such as fear).
I practice intrusive interventions for struggling students.
You can raise that academic bar and students can complete that challenging work that we think they might not be ready for.

Fiction: Underprepared students do not succeed as well as their peers in college--success stories are the exception rather than the rule.

I think they don't succeed due to the structure of our system. Every "Exit Point" that we add, is a point where a student can slip out of the system. What we are doing is eliminating exit points. You can't just do this, you have to teach differently as well.
Items mentioned in this podcast include:
Why Your Opinion Matters:
Our upcoming book:The Caring Professor: A Guide to Effective, Rewarding, and Rigorous Teaching, was written with feedback from many educators and students, which was our plan all along. We began by outlining our thoughts on a series of topics, then we recorded them to share with the world. From the feedback we received, we were informed about the needs of the student caring community. We need your feedback so we may continue to fulfill our mission statement and help students, the world over.
Please, click to write a review for this podcast in iTunes.
If you have a question you'd potentially like answered on a future podcast, CALL

our toll free Internet voicemail number

: (

855

)

639-9292.
Thank you!
Daniel & David

Comments[0]
---