Fri, 30 August 2013
SC 50 Transitioning from Undergraduate to Graduate School
Transitioning from Undergraduate to Graduate School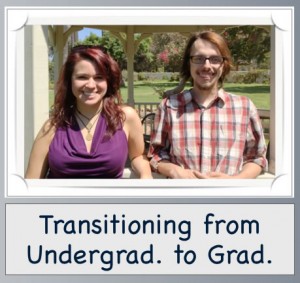 In celebration of our 50th PODCAST! we interview two students who making the transition from undergraduate to graduate school.
The students are Mr. Jonathan de Roulet (Daniel's son and David's former student) and his girlfriend, Ms. Carlene DeScalo.
Here are some additional interviews with students and one for graduate students:
Thank you to everyone in the Student Caring Community who have been following, contributing and sharing our work with the world!
We begin with a short story from Jonathan about the Student Caring Project began then discuss their journey's from undergraduate to graduate school.
Sound Bites:
Jonathan, please tell our audience the story about how "Student Caring" began...
There was this class, "

Career Directions and Your Daily Bread

"...
What can you tell us about your journey from undergraduate to graduate school?
Once you graduate, you learn a significant amount about what you want to do and what you don't want to do.
We went to

U/RTA

's in Chicago.
Q: What has been the best experience for preparing you for a graduate program?
A: Being at the

Steppenwolf Theatre Company

.
Q: What do you want to get out of graduate school? A: More professional connections and to give other undergraduates hope.
Carlene: "Ultimately, I want to teach."
Jonathan: "The one are going to,

California State University at Long Beach

, just felt the most at home and the most that they cared about their students growth and progress."
We accept constructive criticism, but when it's just criticism for the sake of criticism, a student's not going to very open to that.
We rated schools, strictly on the merits of the person who interviewed me.
I think we should go our separate ways.
Q: What about Long Beach (State University) is attractive to you? A: Well, it's a beach town.
Q: Why are you going to graduate school for the arts? A: In order to get the higher level jobs, I need to put in the time to get an M.F.A.
Q: Why are you going to graduate school for the arts? A: If you want to teach, you need an M.F.A. or five years in the field. The opportunities are much much better.
Carelene and I are used to working 60 hour weeks in theatre. We imagine grad school will be quite similar.
The first year is designed to be challenging and to weed out people who are not meant to be in grad school.
Q: Do you have any advice to give other undergraduate students? A: Never underestimate the value of an undergraduate school or a degree in theatre.
Q: Do you have any advice to give other undergraduate students? A: Just because you lose on job, it does not mean its over for you.
Other jobs we all have worked:

Kentucky Fried Chicken

,

Jack in the Box

,

Starbucks

,

Barnes and Noble

,

Burlesque

,

Papa Johns

,

Jimmy Jon's

.
Please join us for podcast No. 51: "Caring for Students in our Historically Black Colleges and Universities"
Why Your Opinion Matters:
Our upcoming book:The Caring Professor: A Guide to Effective, Rewarding, and Rigorous Teaching, was written with feedback from many educators and students, which was our plan all along. We began by outlining our thoughts on a series of topics, then we recorded them to share with the world. From the feedback we received, we were informed about the needs of the student caring community. We need your feedback so we may continue to fulfill our mission statement and help students, the world over.
Please, click to write a review for this podcast in iTunes.
If you have a question you'd potentially like answered on a future podcast, CALL our toll free Internet voicemail number: (855) 639-9292.
Thank you!
Daniel & David
Comments[0]
---
Adding comments is not available at this time.