Fri, 8 December 2017
SC 242 Golden Oldies - How to Fail a Class
Here's one of our most popular podcast episodes: HOW TO FAIL A CLASS.
Updated commentary by Daniel and David
~ ### ~


Golden Oldies - Replay
Podcast #242
How to Fail a Class
In my Career Directions and Your Daily Bread class, I teach a variety of lessons to my students about how to make the transition from college to career. As part of the assignment to design and publish their own professional web site, I teach them the basics of how to write a blog post. The following blog post–really an open letter to college students, was submitted by Ms. Grace Johnston. It is my pleasure to feature it here on the Student Caring web site. If you want to listen to Grace read the letter, just click on the play button or go to iTunes and search for the Student Caring Podcast. Prof. David Pecoraro
Dear fellow college students,
Getting straight A's in college is important, but not nearly as important as what you could be doing instead of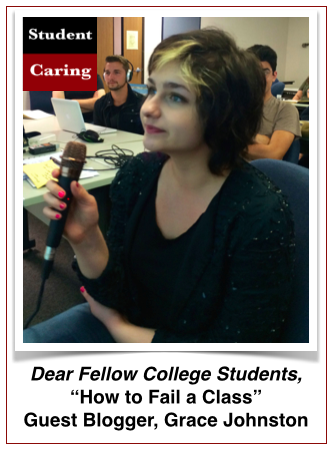 going to class, studying, and doing homework. College is full of useless things. Memorization skills? Who needs that? Reading and comprehension? Psh! General knowledge and information about daily life and the world? Boring!
What we learn in school will never follow us into real life, so why even bother? Here are a few tips on how to make the least out of your class!

Use your phone during class
Being distracted and disconnected is a key to future bad performance. Texting, Instagram, Facebook, Twitter, Tumblr; I want you to pick up your phone right now and immerse yourself in these things because you will be glad you did later! Especially when your professor clues you in on valuable information that's not on the study guide for the next exam. You might as well disrespect the speaker while you're at it!
Even if your homework assignments actually rely on a textbook, buy it and DO NOT touch it.
There is no better way to dissociate yourself with the course you're taking than to purchase the required text and never open it. Who wants to waste their valuable social media/video game/nap time with reading a textbook that will help you understand the material that the professor babbles about in class? Only those of us who want to fail! The pros outweigh the cons; you'll be short a few bucks, but you'll have NO IDEA what's going on in class.

DO NOT study.
Studying is a sure-fire way to get an excellent grade on exams and quizzes. We do not want success and progress to occur in your time at college, so put down the highlighter and the flash cards. Again, who wants to waste their precious time with studying? Your time at college is meant for other things like going out with friends, wasting your parents' money, or gaining fifteen pounds.
After the professor takes roll, leave as if you're going to use the restroom and DO NOT come back.
Why on earth would you want to sit through a BORING, USELESS, INFORMATIONALLY VOID lecture when you've already got your name down on the attendance sheet? Only if you want to actually do well in class, of course! Use all of the time you've saved to do the really important stuff, like taking a nap, not finding a job, and avoiding all responsibilities.
Make fun patterns on your Scantron.
You could fill in all of your answers as "a" and be boring, or you could make your exam time much more interesting. Try to make squiggles, lightning bolts, zigzags, or, if you're more advanced in Scantron art, a double helix. Don't be afraid to let your artistic abilities flow, because that's all that you have going for you in the future.
DO NOT turn in any assignments.
This is a big one that fail-savvy students tend to miss. In some classes, assignments make up 50% of your grade. Imagine if you even TRIED to make an effort to complete one and turn it in on time. Avoid them at all costs; you'll be glad you did.
Extra credit? More like torture!
Extra credit is absolutely detrimental to your failure. It could cause your grade to move up A WHOLE LETTER. Wow! Who would have thought that it could be so evil?
These are only a few tips to get you on your way to fail-ville. I hope these tricks and ideas help you and inspire you to get your grades down so low that you lose your scholarship.
A little disclaimer: some of these tips will not work for everyone, so try them all out and see which ones benefit you the most. I wish you luck!
Happy academic probation,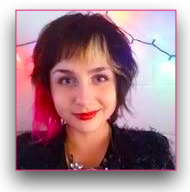 Grace Johnston
College Student, Educational Philosopher, Self-Professed Comedienne
Freelance Editor and Proofreader, Technical Theatre Major
Email

Right or control click here to download the MP3 of the Podcast.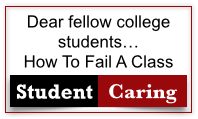 Professors David C. Pecoraro and Daniel de Roulet, with over 50 years of combined teaching, faculty development and administrative experience, provide professional mentoring services for professors wishing to improve in the following areas:
Course organization and management
Syllabus and lesson plan construction
Creating successful examinations, assignments, projects, and field trips
Improving instructor-student communication and rapport
Constructing a career plan
Mock job interview
Other areas? (Let us know.)

You E-mail us with a one page narrative of your current situation and the area(s) where you want to improve.
We'll reply to you with a list of available dates and time for your one-hour appointment and payment information.

1. You select a date and time, provide us with your contact information in the form of a telephone number or Skype account name. 2. Deposit $200. USD (One-time-flat-fee) into our PayPal account.
1. We'll reply to you confirming the date and time of your session and your paid fee. 2. We begin an analysis of your narrative and prepare for your mentoring session.

We'll telephone / Skype you at the scheduled time and conduct your session.

During this one precious hour, the two of us focus on you - your vision, your goals, and your personal and professional development. We find this most effective when it becomes a shared conversation between us.

Within 5 business days, we will E-mail you with an action plan and accompanying materials.
Available to you, is a thirty-minute followup session within 4 months from the first session. Just contact us to schedule that meeting.

###
Completely Confidential: We understand the personal and sensitive nature of these important areas and promise to you that we will never discuss them with anyone, ever. We retain your information only for the purposes of the above steps. When our communications are concluded, we delete all information.
Biographies
Professor David C. Pecoraro, M.F.A.
I have been a teaching college professor since 1980 and am passionate about all that I have learned about the profession of teaching, which I love. While I teach general education requirements in the arts, my department home has always been in the theatre. I teach courses in the area of design, management and production: Stage Management, Lighting Design, Introduction to Theatre, and others. I have taught at the undergraduate level at a community college and a private university and at the graduate level where I taught stage management for a large university.
I am passionate about interacting with my colleagues, globally, about the profession of teaching. Within that, of course, "Student Caring." I have been teaching long enough to have observed how, when integrated with excellent instruction, can make all the difference in the world for the student. Within that scope, I am especially passionate about course design, in-class instruction, and the transition from college to career.
Dr. Daniel de Roulet, Ph.D.
After receiving a Ph.D. in English from the University of California, Irvine in 1992, I have been a college professor and administrator, and currently teach writing and literature. I have led revisions to general education and first-year curricula, worked with developing educational assessment plans of student learning, and received undergraduate teaching awards. I have also coordinated a writing program for at-risk students. My experience is at four-year universities, a four-year college, and at community colleges.
My desire is to bring a sense of personal care into each class I teach, helping students to become adult thinkers and to be equipped for the world after college. Nothing is quite like participating in a student's discovery or rediscovery of education—this, and my continued learning in a community of students, motivates me to teach. I also realize that we college professors are often woefully unprepared for the dynamics of the classroom. My hope is to produce work that will encourages professors to take on as a life-long project the understanding of students and how to best teach them.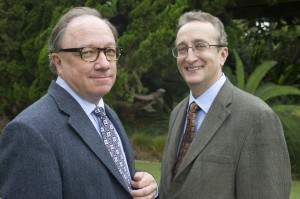 Prof. David C. Pecoraro ~ Dr. Daniel de Roulet
Frequently Asked Questions:
Can a colleague or colleagues join a mentoring session?
No. We want to focus on the needs of one individual at a time. Moreover, it is a good confidentiality practice, which we take very seriously.
Can I record the mentoring session?
Yes.
What languages does your mentoring services provide?
At this time, we only offer the English language. If you have a translator available to you, we can work with them.
Do you offer small group or faculty-retreat / in-service mentoring?
Yes. The sessions include:
A presentation on our most the most pressing needs for professors today.
Guidance on creating action plans.
Post-retreat / group evaluation of action plans.
Optional individual post-retreat / group progress evaluation.
Group/faculty-retreat mentoring: $750. per half-day session; travel and lodging expenses; materials cost at $20 per participant; optional progress evaluations at $100. per participant
Contact Prof. Pecoraro for information about booking a group session. E-mail: david@studentcaring.com
Professional Mentoring Services for College Faculty
Comments[0]
---
Adding comments is not available at this time.