Thu, 8 June 2017
SC 219 Professional Mentoring Services for Professors
In this Post & Podcast, we introduce our professional mentoring services for professors.
Podcast Outline:
The origins of this service:
Throughout our careers we have observed many of our colleagues who had nowhere to turn for help and ended up leaving the teaching profession.
Our research and reporting on the disturbing statistics about why so many professors are leaving the profession. Reference: Podcast Series on Why Many Professors Are Leaving the Profession: 210 , 211, and 212.
Our research and podcast series on professor burnout, base on the work of Dr. Dike Drummond's book, Stop Physician Burnout. In his book he reports that teachers experience the second highest rate of burnout. Reference our Podcast Series on Burnout Solutions: 193, 194, and 195. Also see the post: How To Avoid Burnout as a Professor.
1. Why is this service necessary?
At most colleges and universities, if a professor is having trouble, there are few (if any) confidential sources to turn to.
Teaching and class management are not taught to the majority of professors.
For professors on tenure track who are struggling, immediate intervention is necessary.
Confidential, useful advice helps all professors, as the demands of their jobs and the needs of our students change,
2. Why are we the ones to do it?
We have a combined 50 years in the college classroom at both four-year and two-year schools.
We have written, spoken, and have produced over 200 podcasts on teaching effectiveness.
We have significant administrative experience in hiring, evaluating, and helping professors in our college careers (department chairs, hiring committees, faculty development chairs, dean, assoc. provost, student success representatives, student equity projects and committees)
We are confidential.
We honestly assess for each individual case whether we are the best people to help.
3. What does the program look like?
We begin with a careful evaluation of the needs of a professor.
We arrange a skype session to address the evaluation and answer further questions.
We discuss needed resources and direct clients to the best places from which to gain them.
We schedule a follow up session to check on progress, offering further advice and proposing fine tuning.
4. How is it arranged?
Initial contact
Collection of materials and flat fee
Sessions scheduled
We are very enthusiastic about this. These services are something we believe in and think can be a great help to our colleagues.
~ Completely Confidential ~
Professors David C. Pecoraro and Daniel de Roulet, with over 50 years of combined teaching, faculty development and administrative experience, provide professional mentoring services for professors wishing to improve in the following areas:
Course organization and management
Syllabus and lesson plan construction
Creating successful examinations, assignments, projects, and field trips
Improving instructor-student communication and rapport
Constructing a career plan
Mock job interview
Other areas? (Let us know.)

You E-mail us with a one page narrative of your current situation and the area(s) where you want to improve.
We'll reply to you with a list of available dates and time for your one-hour appointment and payment information. Start Step 1.

1. You select a date and time, provide us with your contact information in the form of a telephone number or Skype account name. 2. Deposit $200. USD (One-time-flat-fee) into our PayPal account.
1. We'll reply to you confirming the date and time of your session and your paid fee. 2. We begin an analysis of your narrative and prepare for your mentoring session.

We'll telephone / Skype you at the scheduled time and conduct your session.

During this one precious hour, the two of us focus on you - your vision, your goals, and your personal and professional development. We find this most effective when it becomes a shared conversation between us.

Within 5 business days, we will E-mail you with an action plan and accompanying materials.
Available to you, is a thirty-minute followup session within 4 months from the first session. Just contact us to schedule that meeting.

###
Completely Confidential: We understand the personal and sensitive nature of these important areas and promise to you that we will never discuss them with anyone, ever. We retain your information only for the purposes of the above steps. When our communications are concluded, we delete all information.
Biographies
Professor David C. Pecoraro, M.F.A.
I have been a teaching college professor since 1980 and am passionate about all that I have learned about the profession of teaching, which I love. While I teach general education requirements in the arts, my department home has always been in the theatre. I teach courses in the area of design, management and production: Stage Management, Lighting Design, Introduction to Theatre, and others. I have taught at the undergraduate level at a community college and a private university and at the graduate level where I taught stage management for a large university.
I am passionate about interacting with my colleagues, globally, about the profession of teaching. Within that, of course, "Student Caring." I have been teaching long enough to have observed how, when integrated with excellent instruction, can make all the difference in the world for the student. Within that scope, I am especially passionate about course design, in-class instruction, and the transition from college to career.
Dr. Daniel de Roulet, Ph.D.
After receiving a Ph.D. in English from the University of California, Irvine in 1992, I have been a college professor and administrator, and currently teach writing and literature. I have led revisions to general education and first-year curricula, worked with developing educational assessment plans of student learning, and received undergraduate teaching awards. I have also coordinated a writing program for at-risk students. My experience is at four-year universities, a four-year college, and at community colleges.
My desire is to bring a sense of personal care into each class I teach, helping students to become adult thinkers and to be equipped for the world after college. Nothing is quite like participating in a student's discovery or rediscovery of education—this, and my continued learning in a community of students, motivates me to teach. I also realize that we college professors are often woefully unprepared for the dynamics of the classroom. My hope is to produce work that will encourages professors to take on as a life-long project the understanding of students and how to best teach them.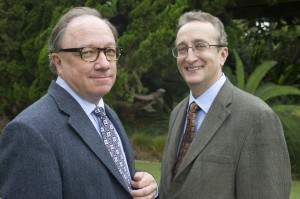 Prof. David C. Pecoraro ~ Dr. Daniel de Roulet
Frequently Asked Questions:
Can a colleague or colleagues join a mentoring session?
No. We want to focus on the needs of one individual at a time. Moreover, it is a good confidentiality practice, which we take very seriously.
Can I record the mentoring session?
Yes.
What languages does your mentoring services provide?
At this time, we only offer the English language. If you have a translator available to you, we can work with them.
Do you offer small group or faculty-retreat / in-service mentoring?
Yes. The sessions include:
A presentation on our most the most pressing needs for professors today.
Guidance on creating action plans.
Post-retreat / group evaluation of action plans.
Optional individual post-retreat / group progress evaluation.
Group/faculty-retreat mentoring: $750. per half-day session; travel and lodging expenses; materials cost at $20 per participant; optional progress evaluations at $100. per participant
Contact Prof. Pecoraro for information about booking a group session. E-mail: david@studentcaring.com
Professional Mentoring Services for Professors
Comments[0]
---
Adding comments is not available at this time.